Direct Deposit
Link your Direct Deposit Accounts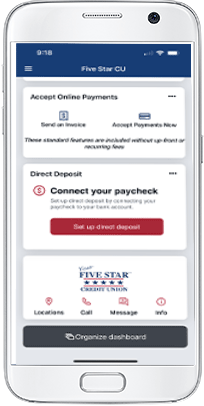 Linking your Direct Deposit to your accounts is safe and very easy. Five Star has simplified the process down to just a few clicks. The good news is that you can do it yourself. It's easy to spread your check to different accounts so you can start saving more money. This allows you to make changes to your direct deposit. By adding your direct deposit, you get paid a day early at Five Star!
Get started:
Log in to Five Star's mobile app or online banking
Click on the Connect Your Paycheck card at the bottom of the main dashboard
If you don't see the card, click the Organize Dashboard and add the Direct Deposit card
Select the account where you would like the deposit to go into
Find, or search, for your payroll provider or employer and follow the prompts
Please Note: You will need your login credentials for your payroll provider in order to complete this process. If you do not know your credentials or see your employer, reach out to your employer's HR department.